FOODEASE
Initiating as a working partnership with a local start-up meal kit delivery provider in its preparation for launch, our team utilized the design thinking process; moving through uncertainty to clarity of concept.
A live case study in interdisciplinary innovation, we worked through holistic objectives and approaches pivoting several times, enabling the team to deliver a truly innovative outcome. Meeting with the startup periodically to discuss learnings, the resulting study captured our insights and strategy across four verticals; Business Development, Logistics, Marketing and Finance. Findings spanned various phases in the strategic design process, from market research, stakeholder focus-groups & workshops, to ideation on enhancement opportunities for the start-up's business model. Beyond creating our own business plan, our journey offered organic team pivots from functional verticals to needs–based alignments and ultimately aligned efforts to disciplines to complete testing and prototypes.
Immersion in the food industry, allowed us to question models and find validation in our business acumen as our partner was in-parallel pivoting very rapidly, often mirroring the insights we independently learned. We collectively realized our ideation process lead to creative concepts beyond common core value propositions. This opening in the market provided the opportunity operate independently and design an innovative business concept for the food industry. To fill this untapped potential, we designed a new model inviting the likes of various meal kit competitors to have presence on a platform, bringing together existing silos within the food industry onto one digital experience as a place to access, explore, share and connect on all things food for both suppliers and consumers.
A 15 week long journey, FoodEase was the result and embodiment of intensive study into the design thinking process. Embracing chaos and uncertainty yielded innovative results, leading us to the articulation of a new business model with the ability to create, deliver and capture value.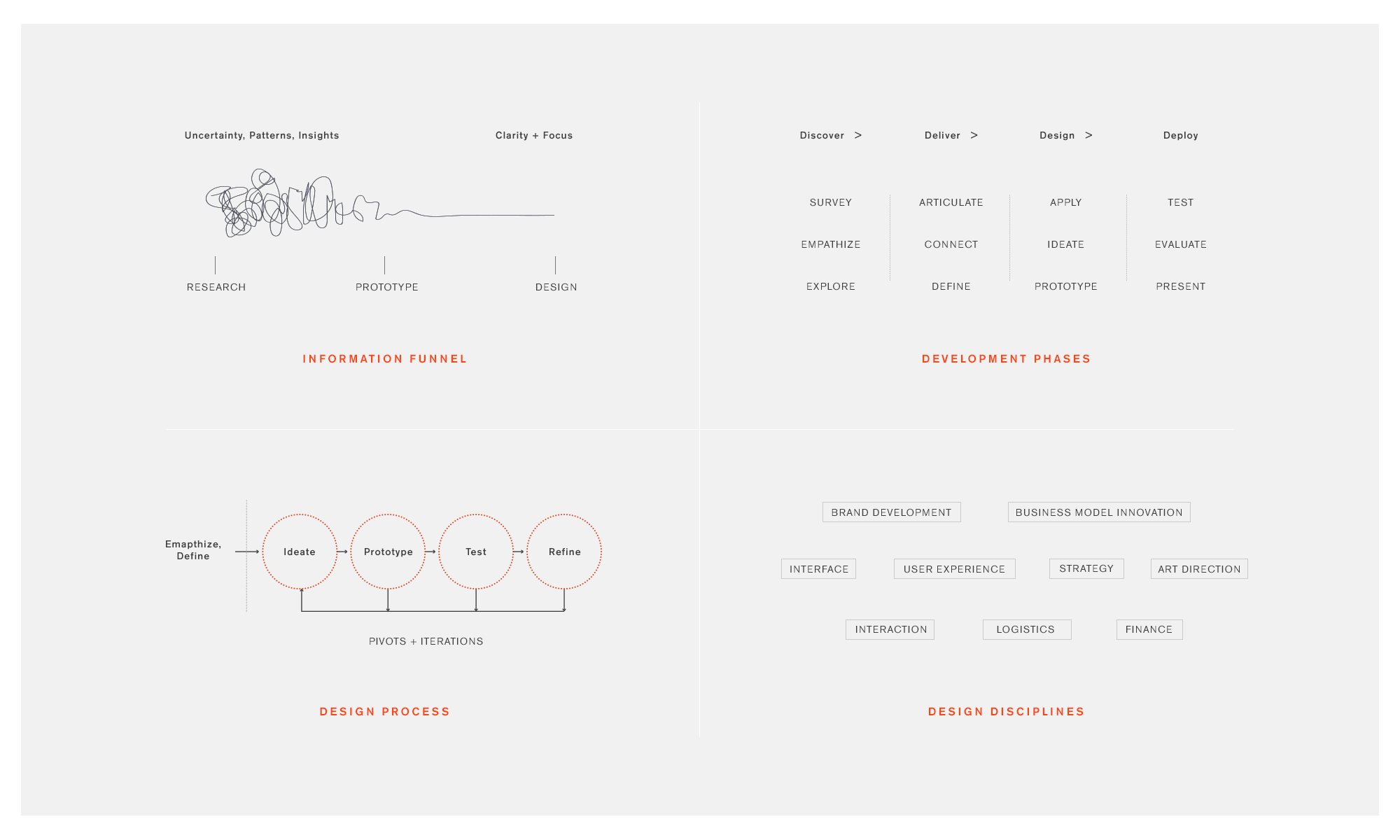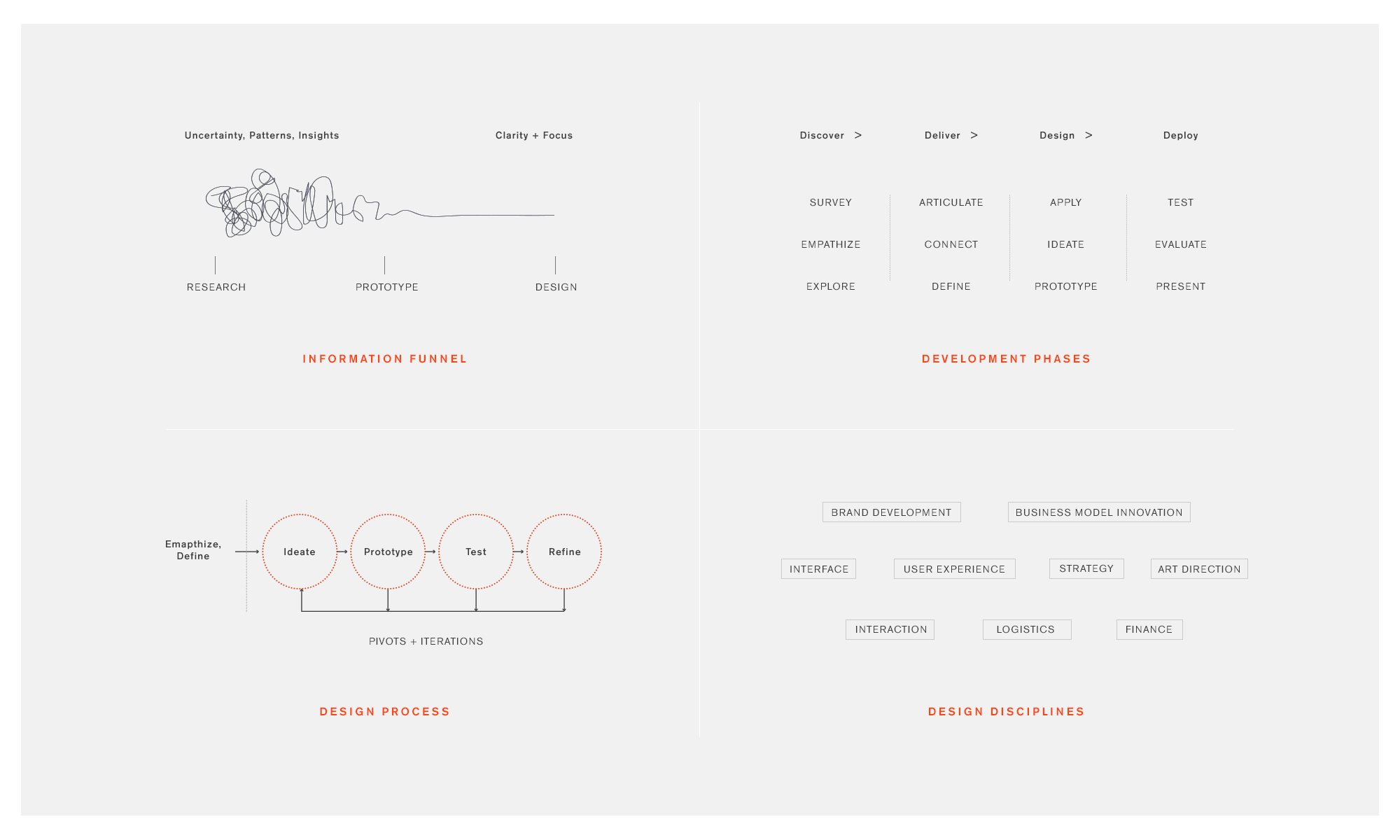 THE PROCESS
Our approach was rooted in design strategy–a set of human-centered methodologies that enable learning by doing. Useful constructs, these principles help practitioners move from the unknown to the known in fairly rapid processes. Starting with discovery–understanding the problem/opportunity, moving through to deployment–we arrive at a viable concept. This process focuses on finding, understanding, creating, thinking and doing, which at its core drives action and creation; by sequentially creating and testing through iterative improvement. A variety of qualitative and quantitative research methods were employed including field research, case studies, innovation workshops, co-creation and more. 
STRUCTURE + CONTEXT
Our global economy is complex with rapidly changing standards for the production and management of information, services, and experiences where leaders must be malleable and equipped with innovation skills and tools.
The Parsons School of Design Master of Science in Strategic Design and Management program prepares graduates to operate in an evolving global economy to confidently create, manage, and lead existing and future design processes. Thirteen mid-career professionals brought diverse cultural backgrounds along with varying degrees of knowledge and experience. A decentralized team, we represented 12 different cities in 7 countries spanning 7 time zones. This broad network allowed us to gain global insights exemplifying the power of collaboration and connection.
Teams were organized to support the primary learning objective: becoming subject matter experts in the design process and thus, creating separate departments to avoid redundancies. Initial alignments played significant roles in establishing a final prototype aligning teams on cross-functional themes. Shared research outcomes instructed the key elements to be addressed in a successful business model based on requirements of the food industry. Approaching the design phase, the collective realigned to apply and test various prototypes within ideal environments, gaining deeper insights to be integrated.
LEADING THE TEAM
Co-leading our team of thirteen design, venture and innovation leaders, I was able to encourage and empower the team in harnessing the design process as a method of discovery, collaboration and iterative learning. Drawing on experiences in direction, strategy and design, I guided the alignments through the uncertainty and chaos expected with complex, systematic problems. Acting as design lead, I worked alongside the business lead to direct innovation workshops, promote collaboration, refine insights, and utilize learnings to rapidly build and test prototypes. My efforts were validated as I saw individual growth from team members who progressed, embracing design thinking, comprehension and competencies in their own journeys. To succeed as a leader, I firstly created the conditions for my team to succeed, which lead to personal growth and fulfillment captured in a journey map self analysis.
KEY FINDINGS
Key findings from a broad competitor audit found that the food industry is highly siloed with food delivery services.
A sample includes Business-to-Consumer interface (Example: Seamless); last Mile Services  (Example: zipments.com); food providers with in-house logistics capabilities (Example: Blue Apron); companies that have fulfillment capabilities but aren't purely food focused (Example: Uber/Amazon); companies that have created food ecosystems (Example: Epicurious) and; companies that have created ecosystems including food (Example: Pinterest). Industry expert studies as well as user studies found that consumers seek choice, discovery,and flexibility in one place. 
Food fulfillment services need to fit more seamlessly into real, everyday life–meeting a variety of needs and circumstances. Consumers are seeking social, emotional, and sensory connections in their food experiences as well as personal interest, accomplishment, and skill mastery is important as an emotional job to be done. Supplier studies found that expanding reach is difficult due to expensive and inconvenient logistics infrastructure requirements. Business partnerships must reduce perception of risk and streamline business processes along with the demand for inspiration and customer data.
CREATIVE CONCEPTS FROM QUALITATIVE DISCOVERY
Individual exploration into the art and act of cooking revealed diverse insights and learnings:
01.
Creative Cooking and eating is an emotional, personal experience.
02.
The element of surprise and delight is important. 
03.
Inspiration is and can be drawn from unlikely places.
04.
Success is an iterative process, leverage expertise in one setting to further grow capabilities.
05.
Food preparation can be enhanced by creating an 'experience' around the dish.
06.
The cooking experience can be enriched by providing users transferrable techniques.
07.
Quality, nutritional value and origin of produce is important.
08.
Innovation and appreciation is a strong allure when cooking.
09.
Alignment of expectations is important for inexperienced home cooks.
10.
Restaurant created meal-kits may not be as big an allure to consumers as one thinks.
CREATING VALUE FROM NEW OPPORTUNITIES
FoodEase.com was born as a platform with the go-to-market strategy around solving food fulfillment challenges for suppliers and consumers in New York City. The ultimate vision was to become a comprehensive ecosystem with the ability to cater to all things food related across all stakeholders, functions, and services. The evolution of this opportunity was driven by two key entrepreneurial learnings; firstly that pivots are imminent and thus our big picture ecosystem was likely to shape organically which leads to the second learning to start small by providing a compelling solution in order to attract our first adopters. Our research validated for us that no such platform currently exists, giving us the first mover advantage–a rare occurrence in this new economy.
RESEARCH
After establishing a new business proposition, relationships within the food ecosystem were analyzed, uncovering impacts stakeholders along the supply chain and consumers across various segments have on one another.
Exploring direct and indirect competitors in domestic and international markets, potential points of differentiation and ways to build awareness were gathered. This work spanned across markets both vertical and horizontal, from production to logistics to partnership arrangements in order for us to predict growth, sales projections, identify potential challenges and bottlenecks in the supply chain, outlining potential criteria for decision making. Early and throughout our market research, we engaged with users–consumers and suppliers–through a series of workshops, targeting learnings around functional work streams, as well as user experience journeys. 
UNFocus groups were used to co-create and explore how we might better understand latent needs to imagine clear value propositions for customers and value chains. Interviews with industry entrepreneurs explored untapped needs and opportunities in the supply chain specific to fulfillment and logistics. Given that scaling and profitably is crucial to survival, financial considerations were made for how might we best structure cost centers and revenue streams to compete as an early stage venture. Brand development considered external messages and positioning, clarifying differentiators and tone within a newly defined niche.


INSIGHTS, CHALLENGES + AREAS OF OPPORTUNITY
To distill findings, insights were curated into clusters and mapped to a set of distinct design challenges, addressing specific business opportunities. Spanning the stakeholder spectrum our goal was to represent the intersection of their interests in order to accomplish a desirable, viable, and feasible solution.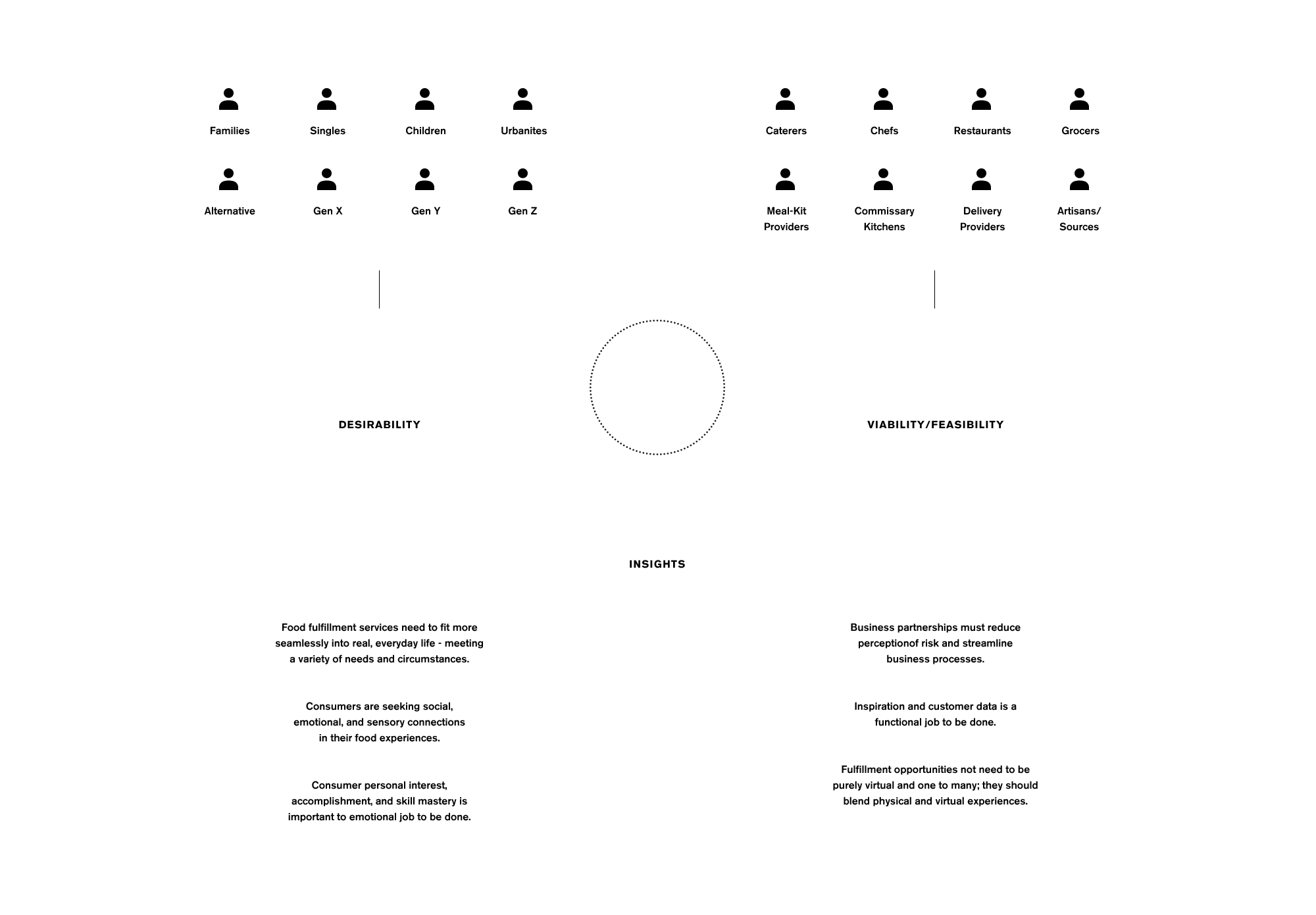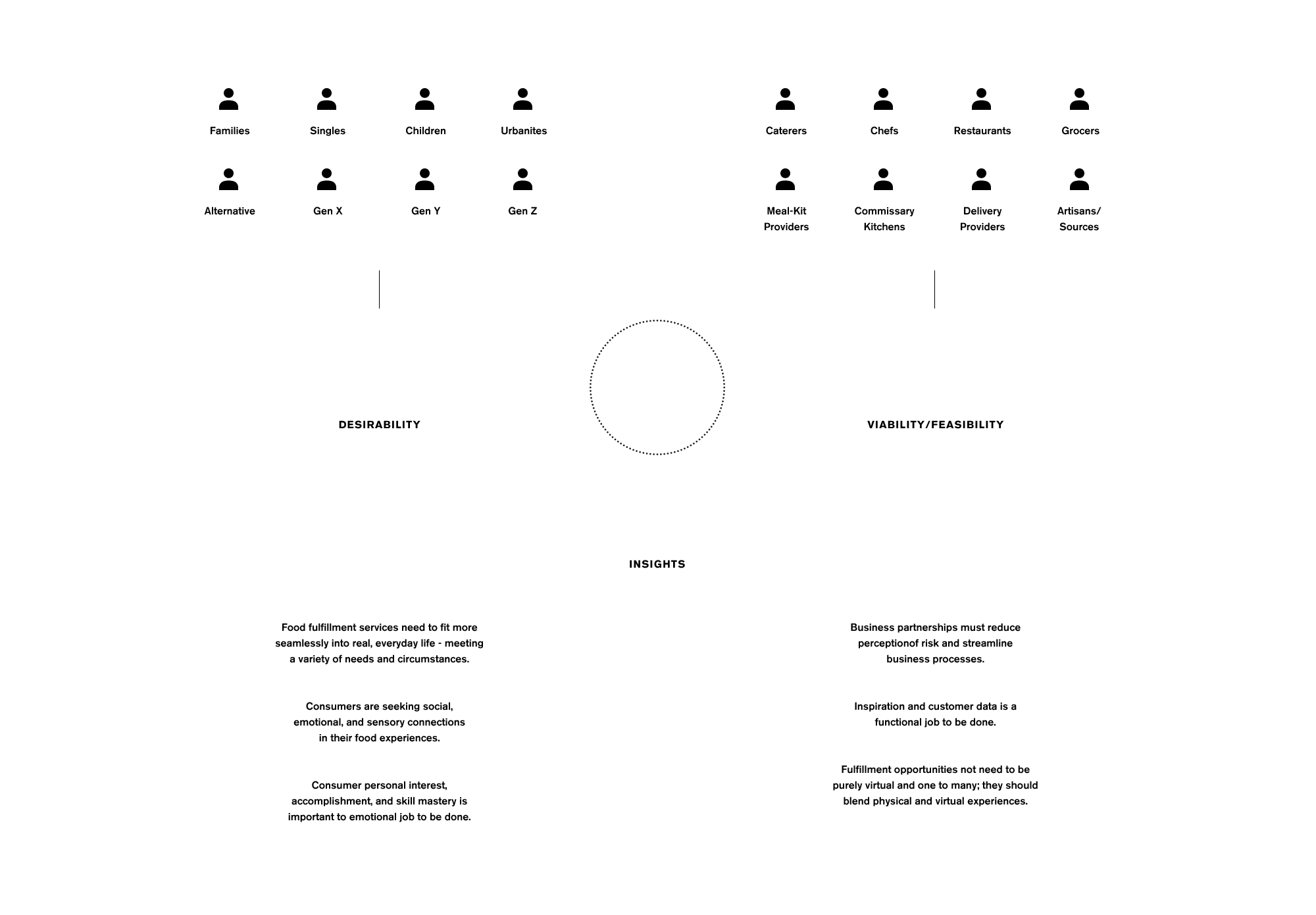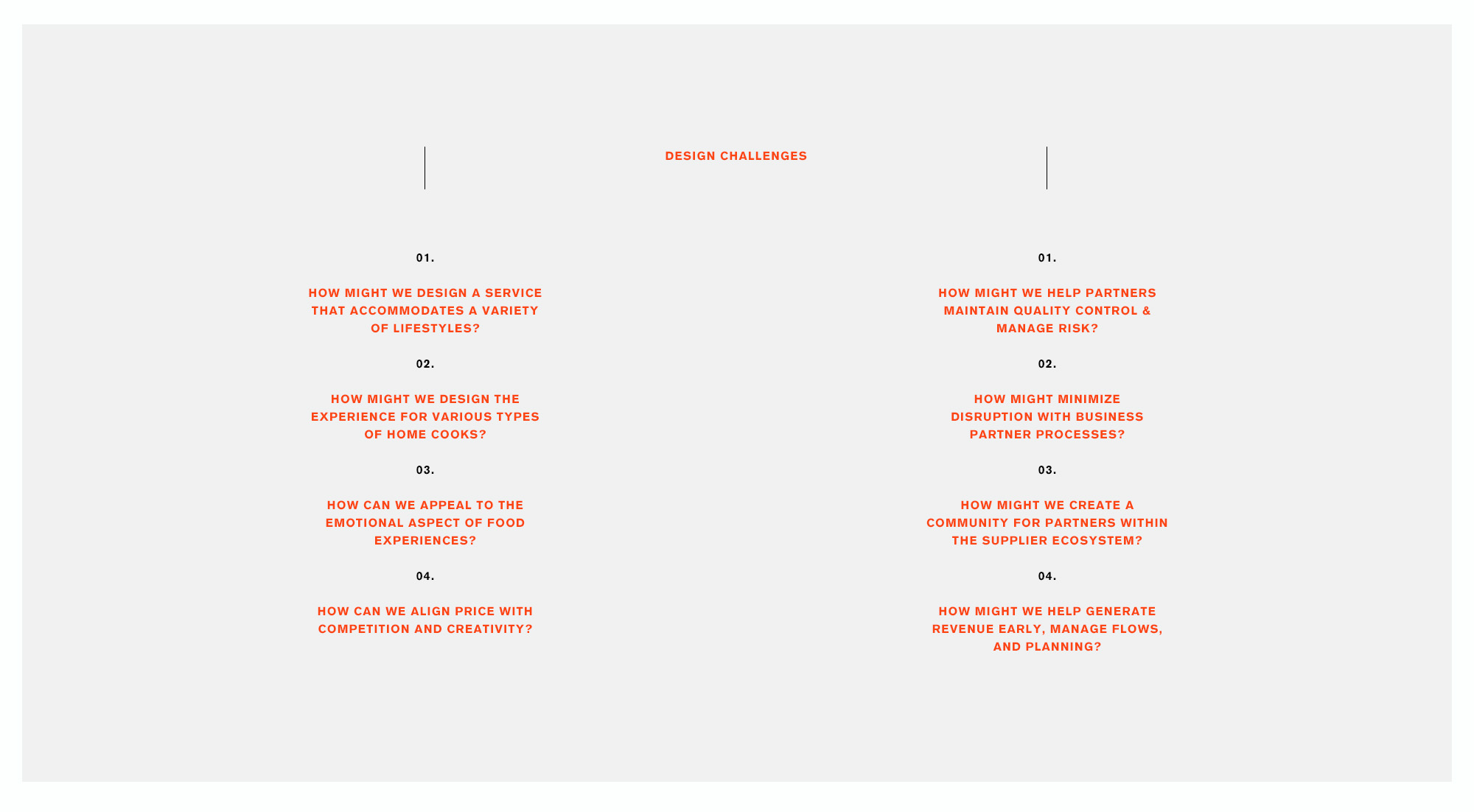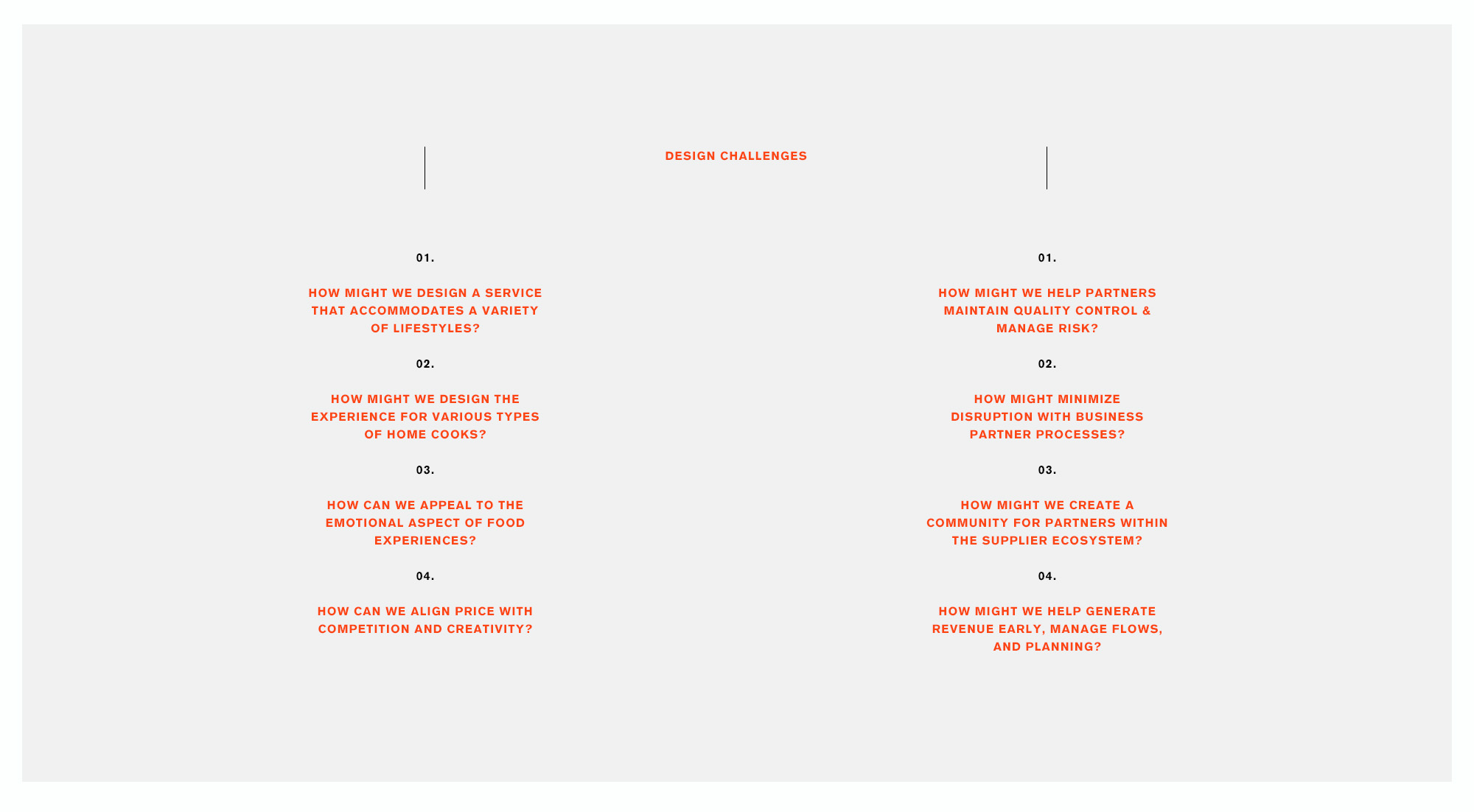 IDEATION
Utilizing both customer and supply side insights, the team conducted rounds of 'thinking out loud' brainstorming sessions to ideate on possible solutions to address design challenges. 
Ideation sessions  traversed functional teams and both user groups, yielding over 80 ideas, which were organized into opportunity areas to select the most viable themes. Also synched were previously determined pains and gains to begin crafting an ideal user experience. In doing so, we phased out the most salient needs by prioritizing various concepts into first a fulfillment proposition and ultimately a food ecosystem. Disruptive innovation in mind, we opted to create a marketplace serving as a one-stop shop for consumers. Our aim was crossing existing silos within the food industry by inviting them all to partake in this a new food community with the potential to organically grow into a neutral ecosystem based on contribution and discovery opportunities a platform such as this could create for both suppliers and consumers.
Realizing our idea was conceptually compelling but in practice daunting and not to mention unaffordable, we were inspired by Netflix's debut, which offered 'no late fees' as a simple differentiator from the existing physical video-rental industry causing instant consumer adoption. So what was our 'no late fees' parallel that allowed us to enter compellingly into the mammoth food industry? With an aim at ease of adoption, we started soundly small and build a stalwart fulfillment infrastructure to attract an audience of small food suppliers who we learned find it difficult and expensive to both fulfill logistics requirements as well as expand their reach.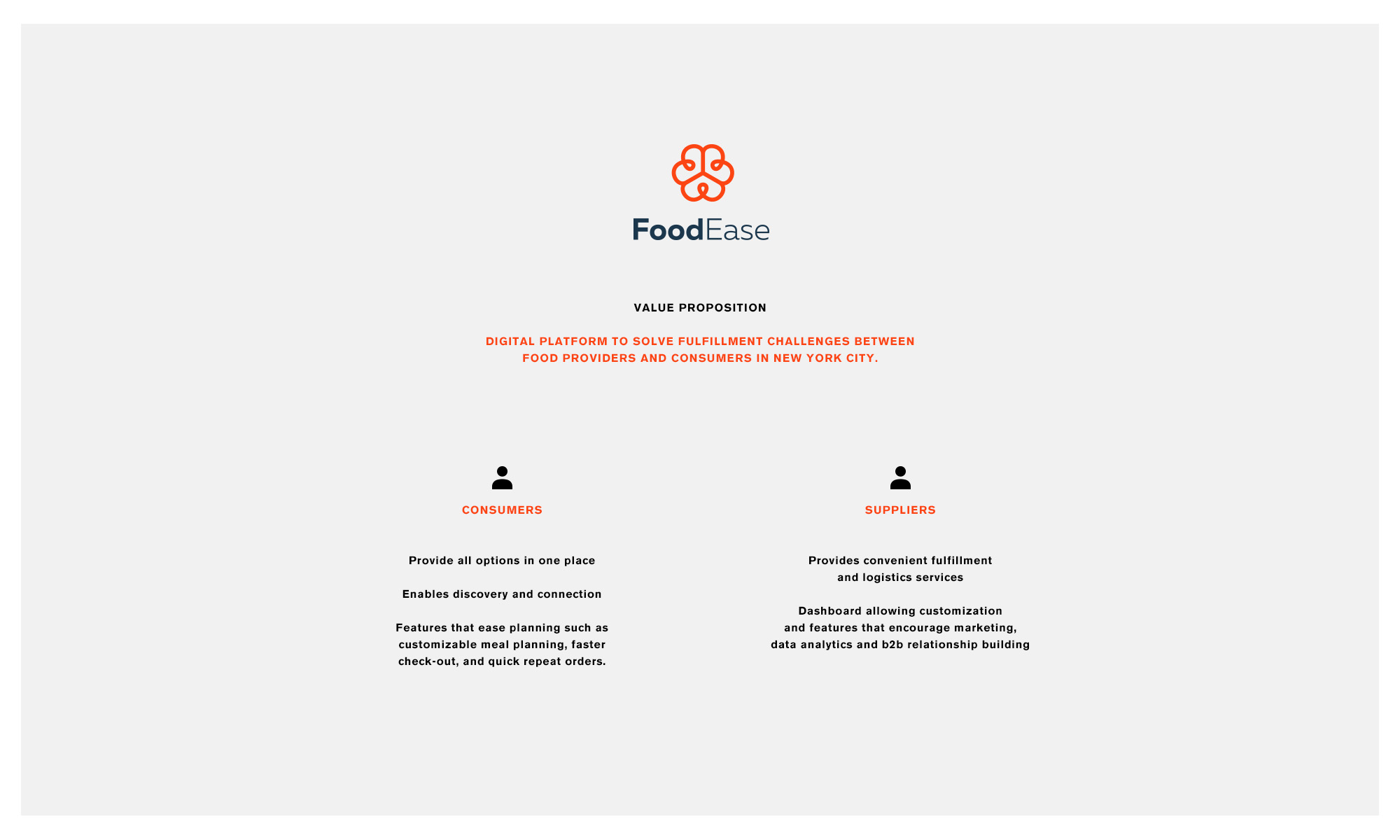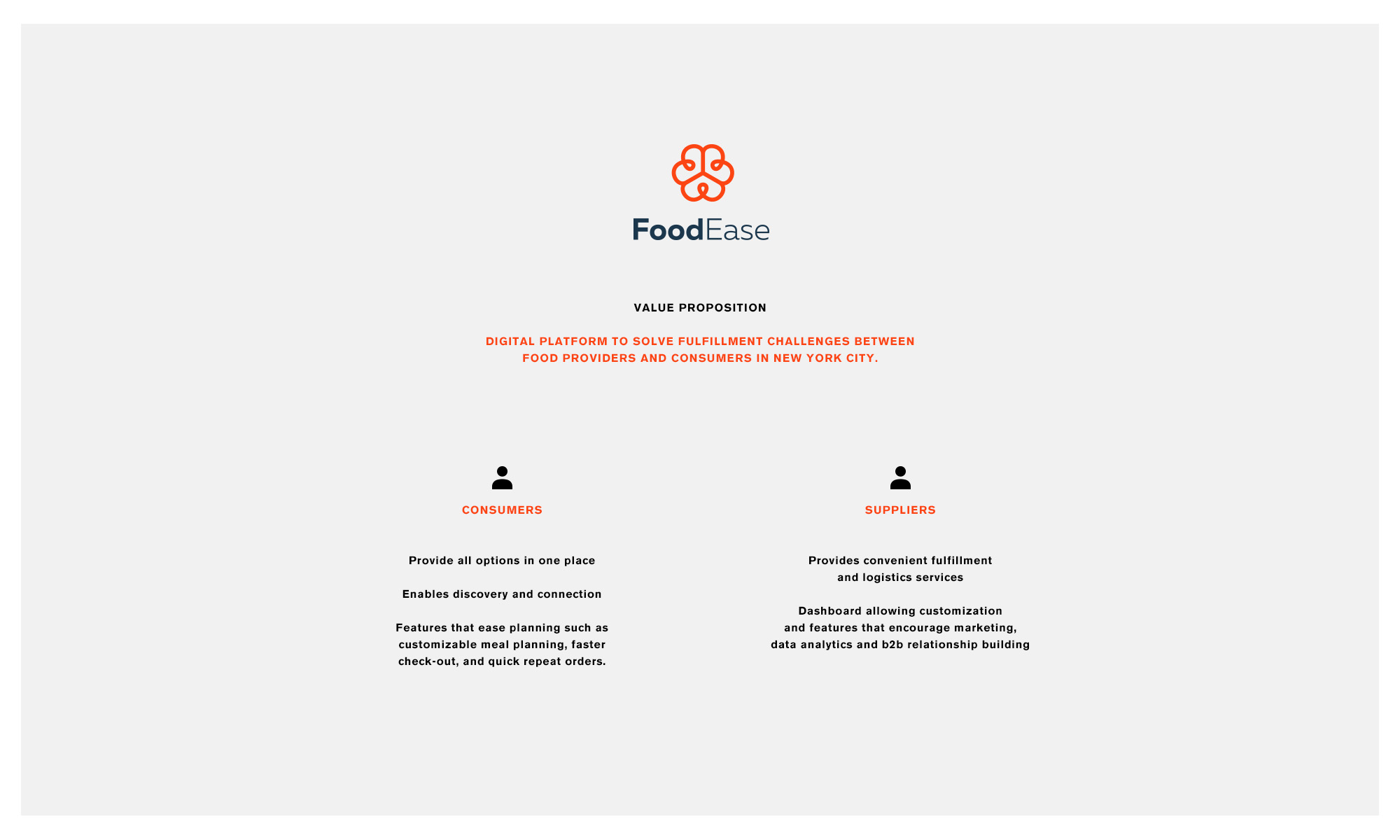 TWO MODELS
Thus, FoodEase was born; A name that resonates with our value proposition and as a clever play on 'Foodies' and 'Food made Easy'. While the long term vision is to create a one stop food shop marketplace that enables people to access, explore, share and connect on everything food, we recognize the importance of building a series of steps towards that lofty aspiration. As a result, we created two business propositions with the aim  to (1) enter the market and (2) reveal our 'big idea'. Firstly, a fulfillment model experienced via digital platform will solve fulfillment challenges between food providers and consumers in New York City. A 'big picture' ecosystem model would create a comprehensive food ecosystem for the food supply/production & consumption industry.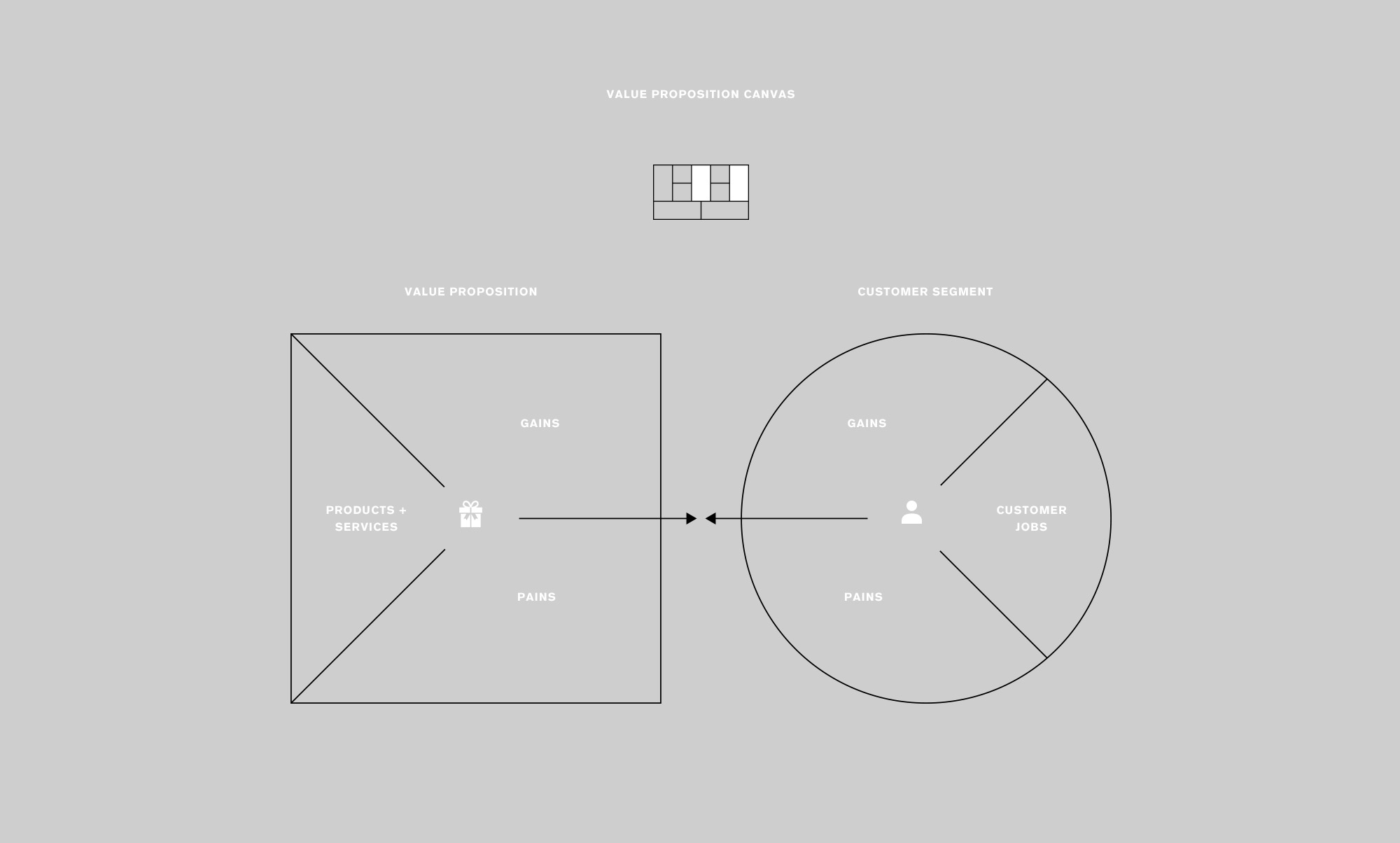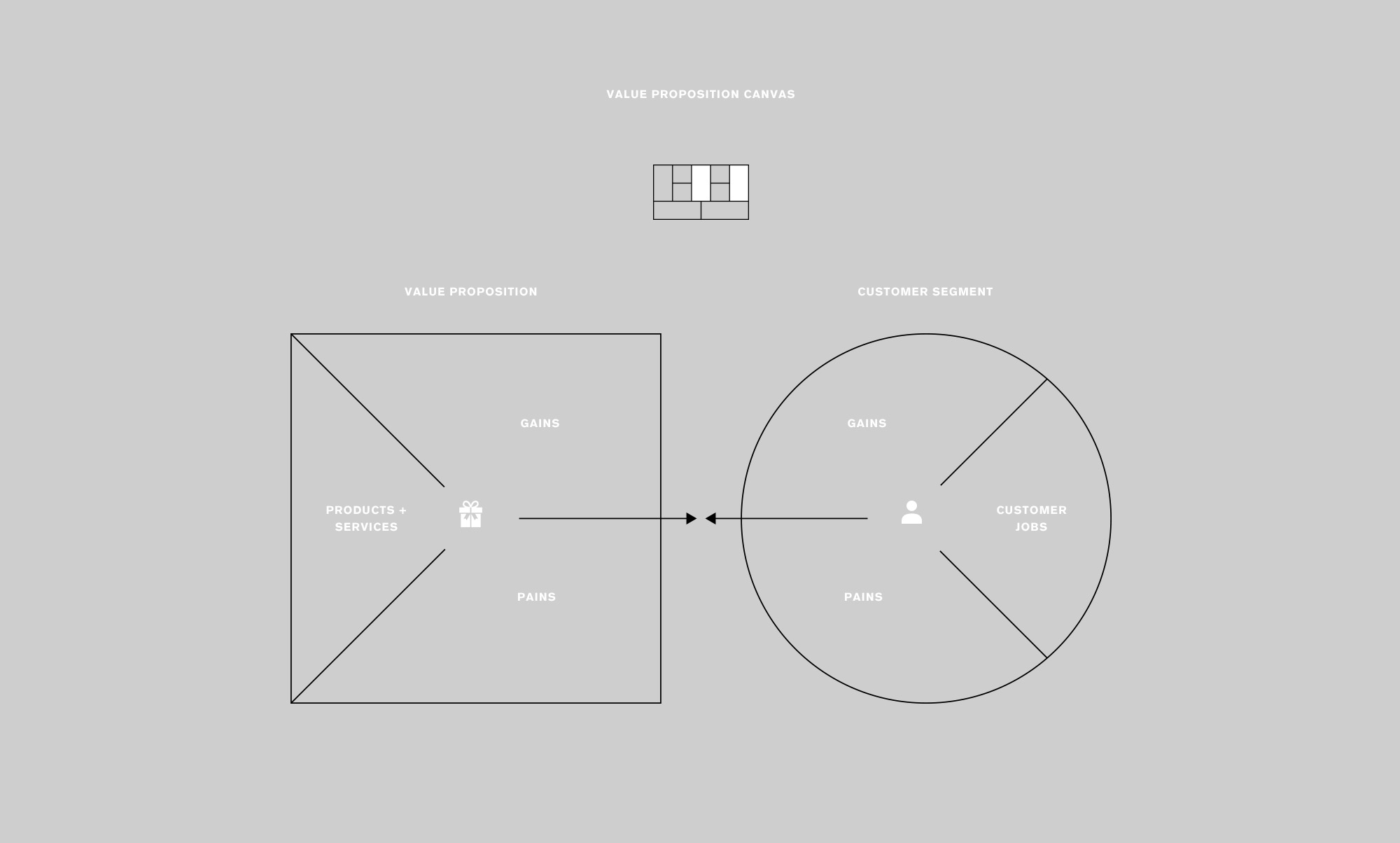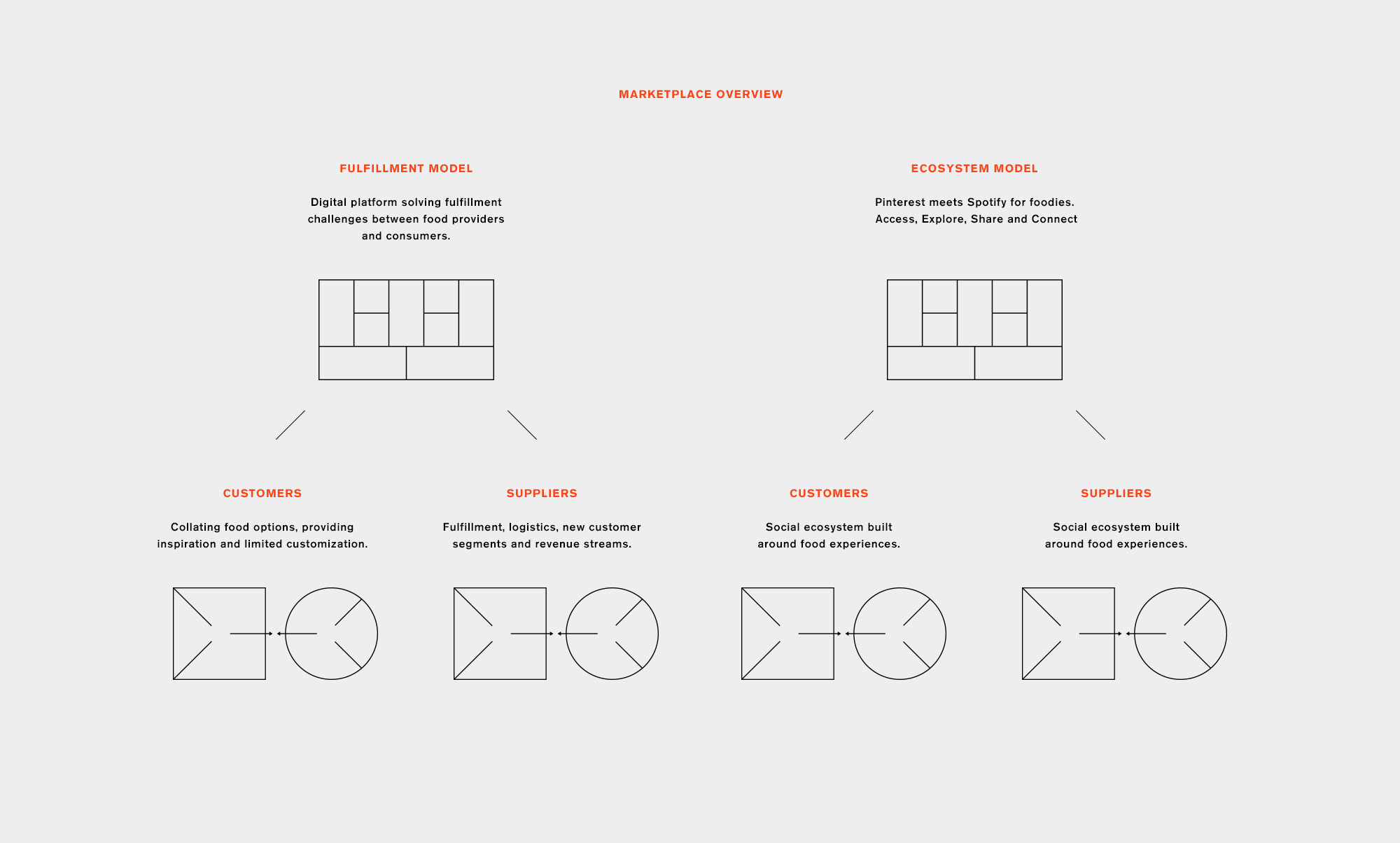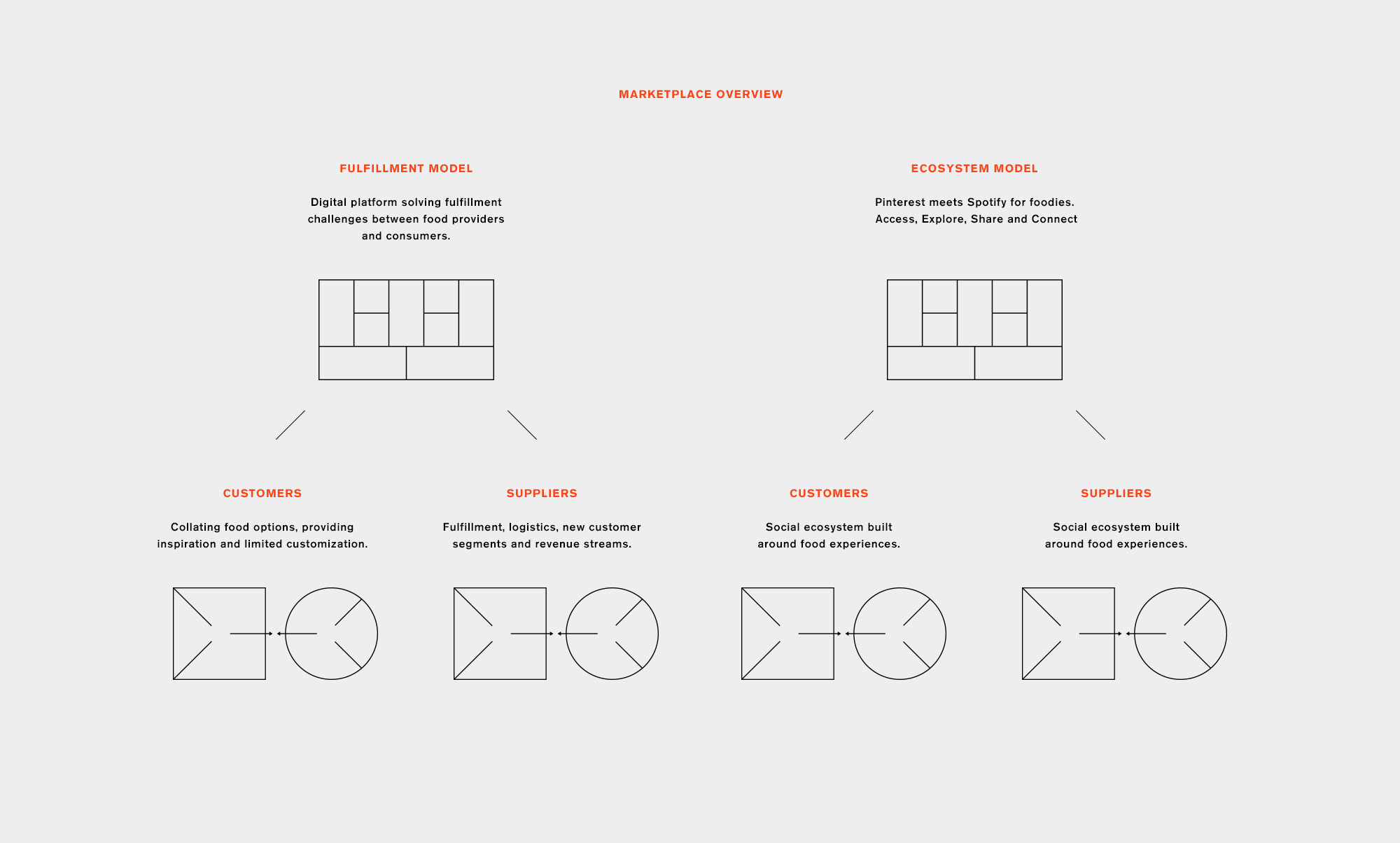 TESTING + ITERATIVE DEVELOPMENT
A thoughtful plan was crafted to test the prototype with consumers and members of the supply chain including chefs, restaurants and food suppliers.
Testing was conducted primarily on business model dimensions (does the overall business model make sense and its desirability), component dimensions (what features resonated most with expected use), and design, branding and messaging feedback. In order to validate our ideas with the most reach, we conducted resonance testing across several U.S. cities as well as a handful of international locations. Subjects spanned the ages of 25-49, and were mixed in gender, family makeup, and urban vs. suburban residents. Similarly, the supply chain representation pulled from various possible players in the future ecosystem, including chefs, restaurateurs, food suppliers, and nutritionists.
Testing evaluated the fit of experience and value proposition proposed as an mvp for an initial launch. In other words, are these the right ideas for the target market's needs and desires? The quality evaluation was analyzed by assessing responses to and engagement in activities related to food/meal experiences. Parameters were to explore specifics (understanding how well the business model/features serve user needs and likelihood of usage) and selective features (understanding how our features integrate into the user's current flow and their ideal experience).
FULFILLMENT STRATEGY
Why go to market as a fulfillment platform if the ultimate goal is to become a food ecosystem?
While the team made endeavors within our prototype exploration to predict what the ecosystem might project, we realized it would be more productive to focus on our go-to-market fulfillment strategy. The ecosystem proposition, being a social experience in nature, we realized that our path would be permeated with organic pivots that could only be predicted by data accumulation and actionable analytics. Thus, the reiterations of our prototype were focused on learnings during testing that impacted our fulfillment strategy.
PROTOTYPES
Prototypes represent potential futures, making abstract concepts tangible and facilitate the exploration of ideas.
With this understanding business models were developed utilizing the business model and value proposition canvases for our business-to-business and business-to-consumer groups in both the fulfillment and ecosystem models. Following the creation of the two propositions  for immediate and long-term release, we drafted sample wireframes and sample platform design to depict both consumer and supplier user experiences. The following features were represented from both models to create possible engagement scenarios.
FULFILLMENT MODEL FEATURES
Shop - Consumers can buy cooked-meals, meal-kits, groceries and catering - across five stakeholders; restaurants, meal-kit companies, grocers, caterers and chefs.  Suppliers can sell food in any of these categories and utilize FoodEase marketing and fulfillment services. Furthermore, the member dashboard enables suppliers to make this experience as informative and intuitive as possible.
Discover - Customers begin to perceive the importance of food as an experience, without limitations of choice. Suppliers can benefit, learning from others to create innovative products/services and thus additional revenue sources.
Deliver - Seamless experience for suppliers to bring purchased products to consumers, using the FoodEase platform. Quality of product, timeliness, consistency, and packaging were explored.
Execution - Ease of use for consumers and suppliers with products and services on our platform. 
ECOSYSTEM MODEL FEATURES
In addition to features in the Fulfillment model, the ecosystem model offers additional features including:  
Inspire - Providing a platform for exchange, benefitting customers by building a credible food community where consumers draw inspiration and share ideas, while suppliers can learn from industry trends and forge potential partnerships.
Share - Providing a platform to improve and create food products and services; offer up opportunity to collaborate and share resources such as excess supplies.
Community - Bringing people together i.e. social media integration for consumers, or connecting suppliers with other suppliers to functionally align or streamlining supply chains.
Customization - Options for consumption and supply respectively in ways users preferred. Smart data offered for suppliers via virtual dashboard to help drive decisions from insights.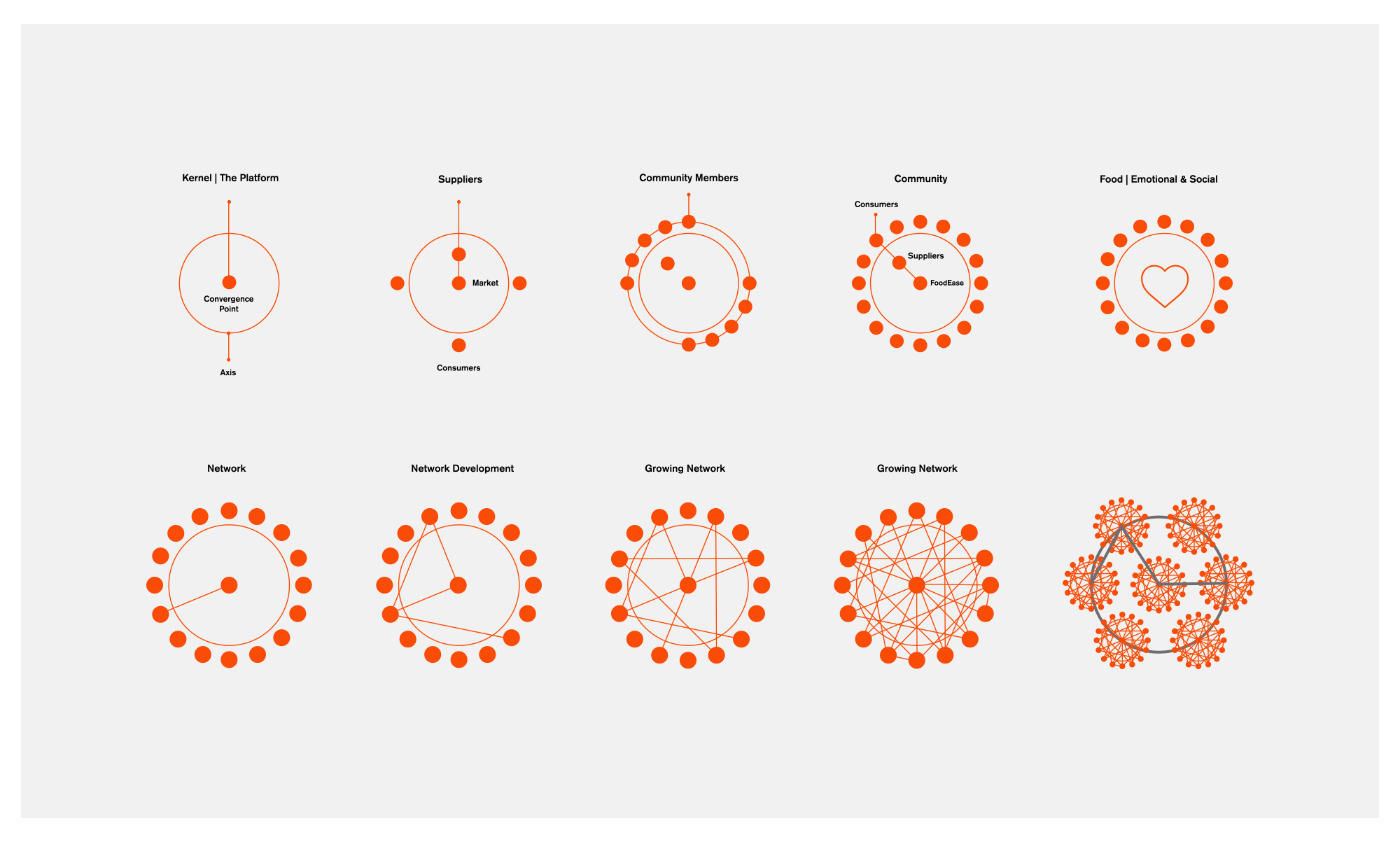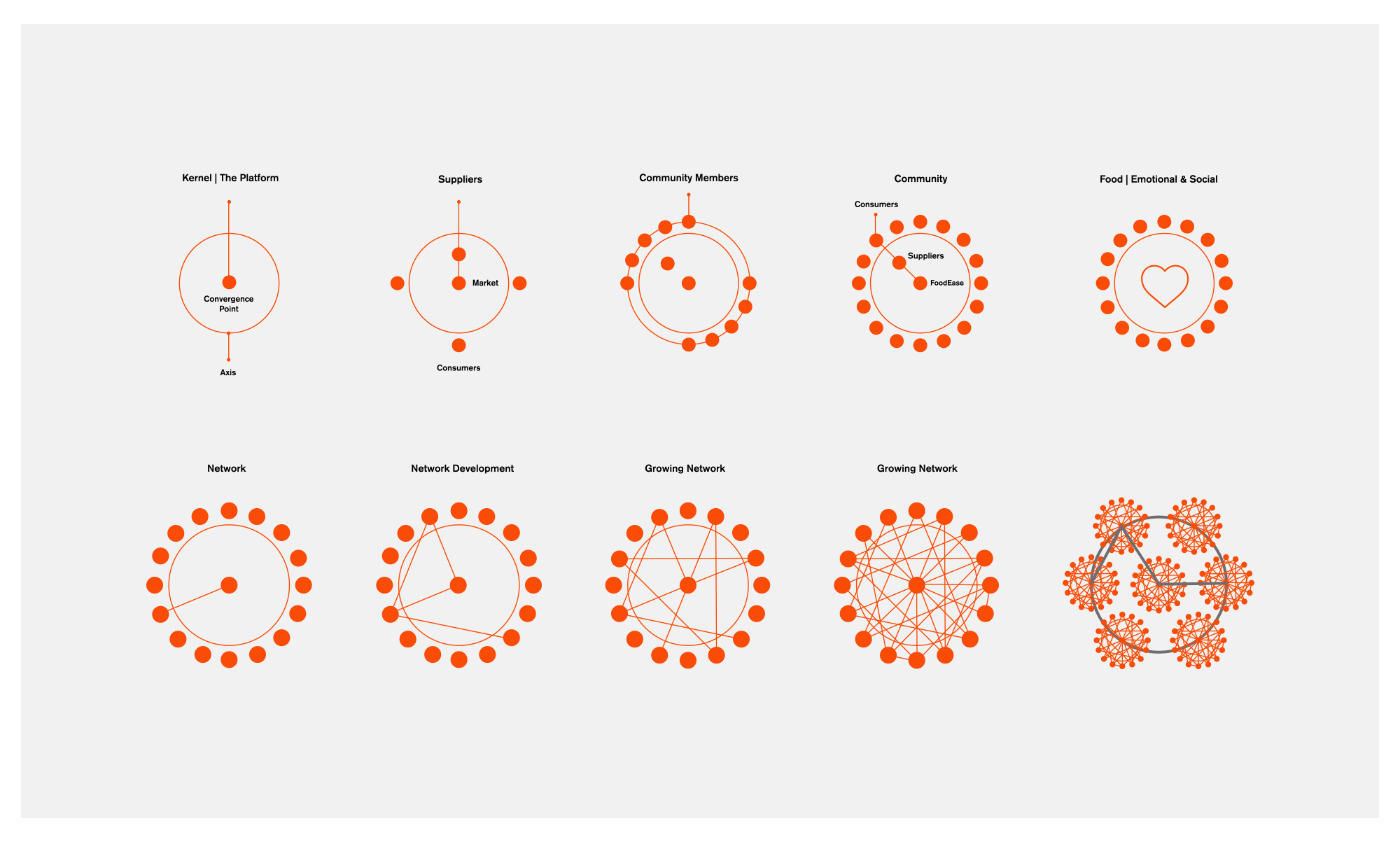 NAMING
Our brand is symbolic of a lifestyle, promising a culture rooted in love and connection. It's a promise of community–and it is this community that will drive our strategic expansion connecting people in purposeful networks, enabling a global ecosystem to emerge in new value exchanges. The origin of the brand is the name, which represents this community of foodies, people who love food, who want to make that experience easy.
IDENTITY
The visual language evolved from the idea that food made with love is the key element for a delightful and delicious experience. The simple act of cooking and eating together and sharing that experience connects people in a wide diversity of circumstances. This is critical to our value proposition and for that reason, the heart is at the core of the design and identity evolution. It represents the emotional side from each individual or community member.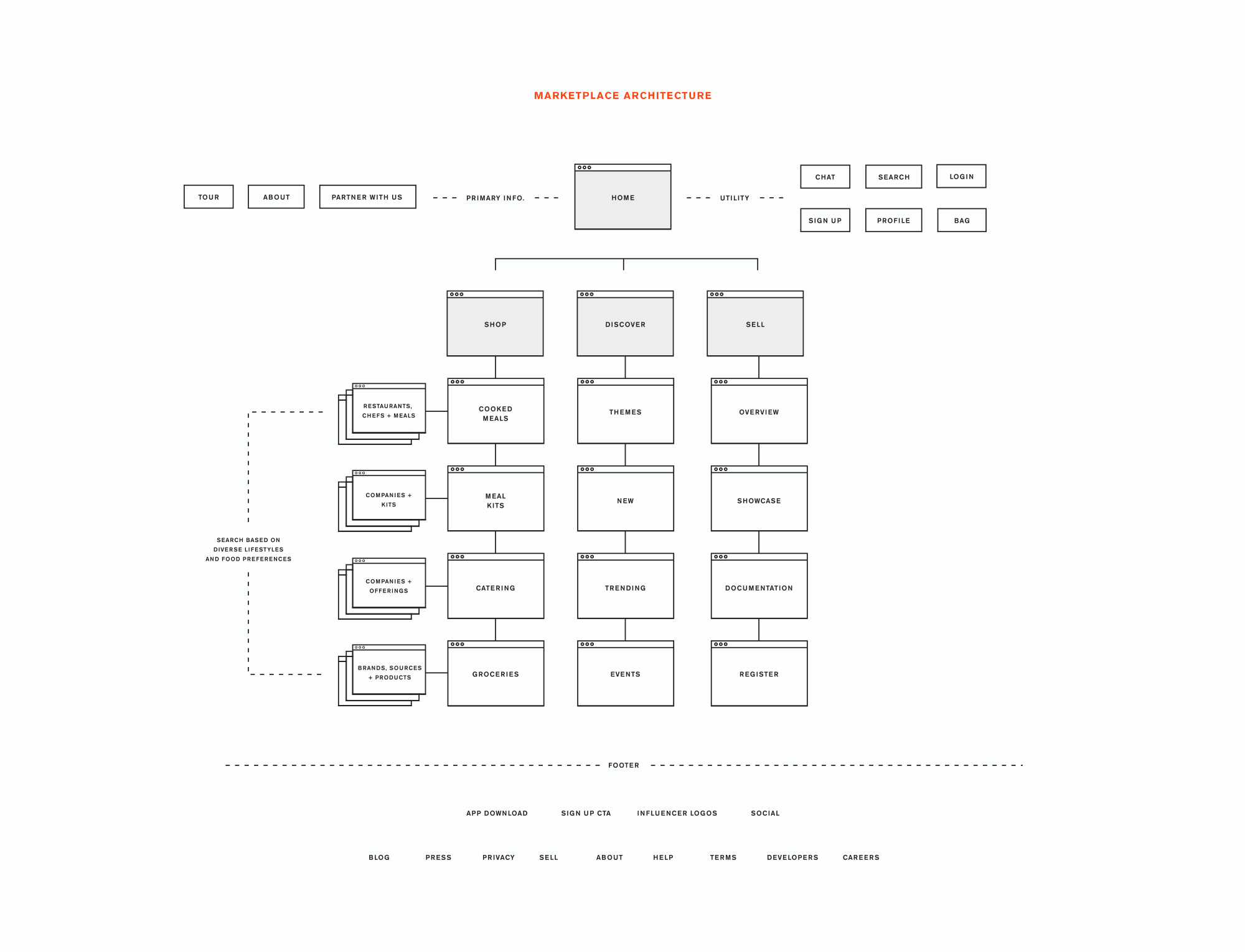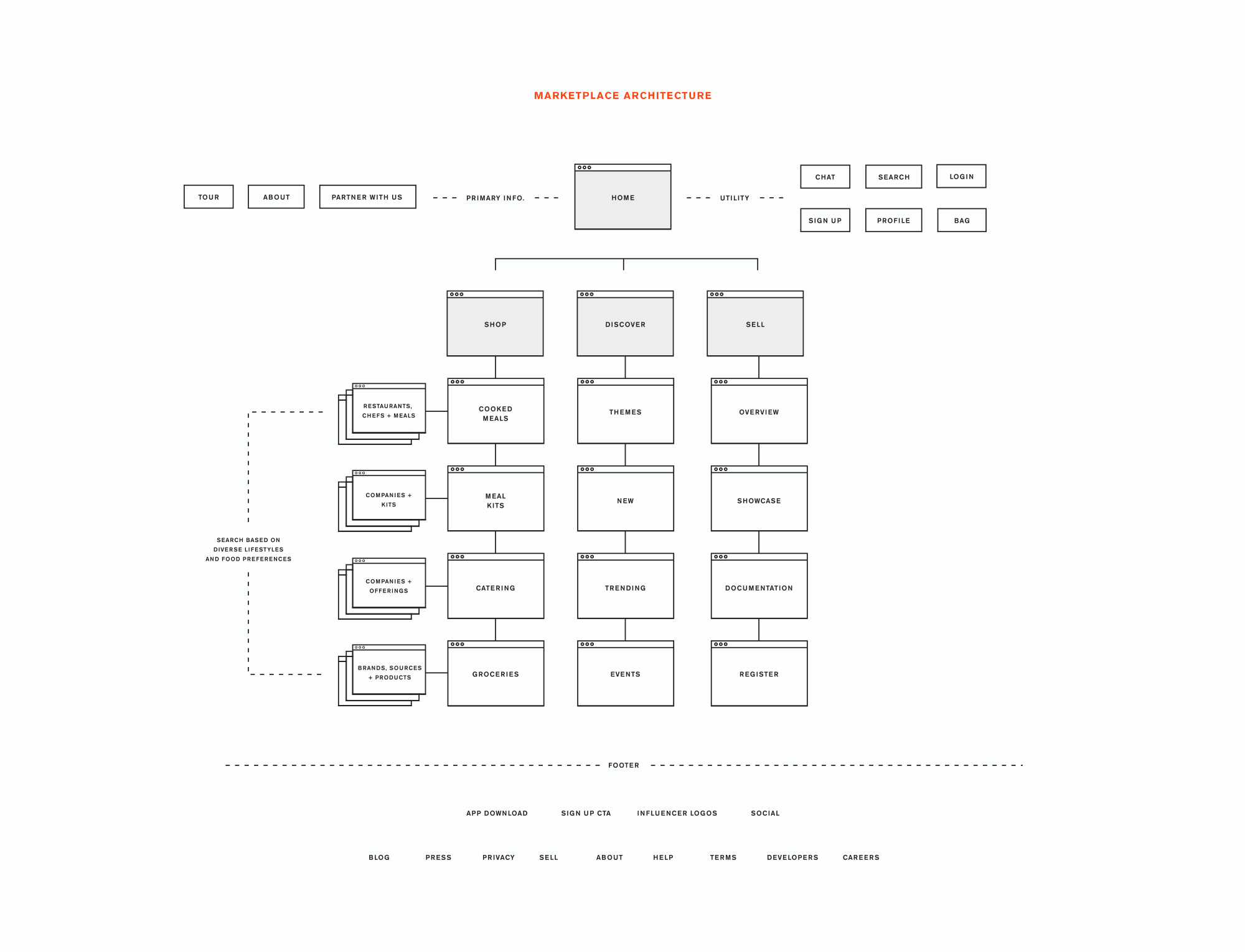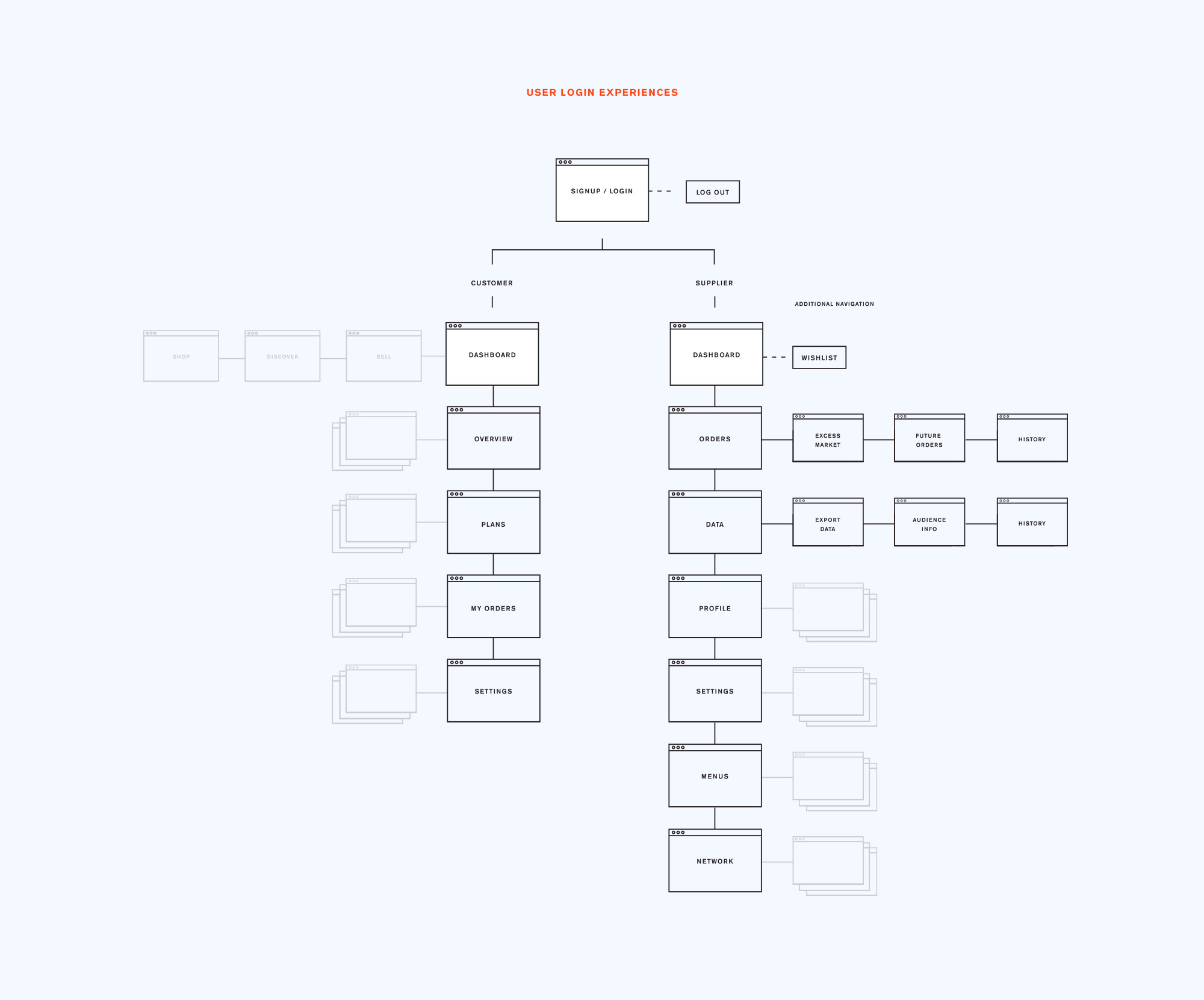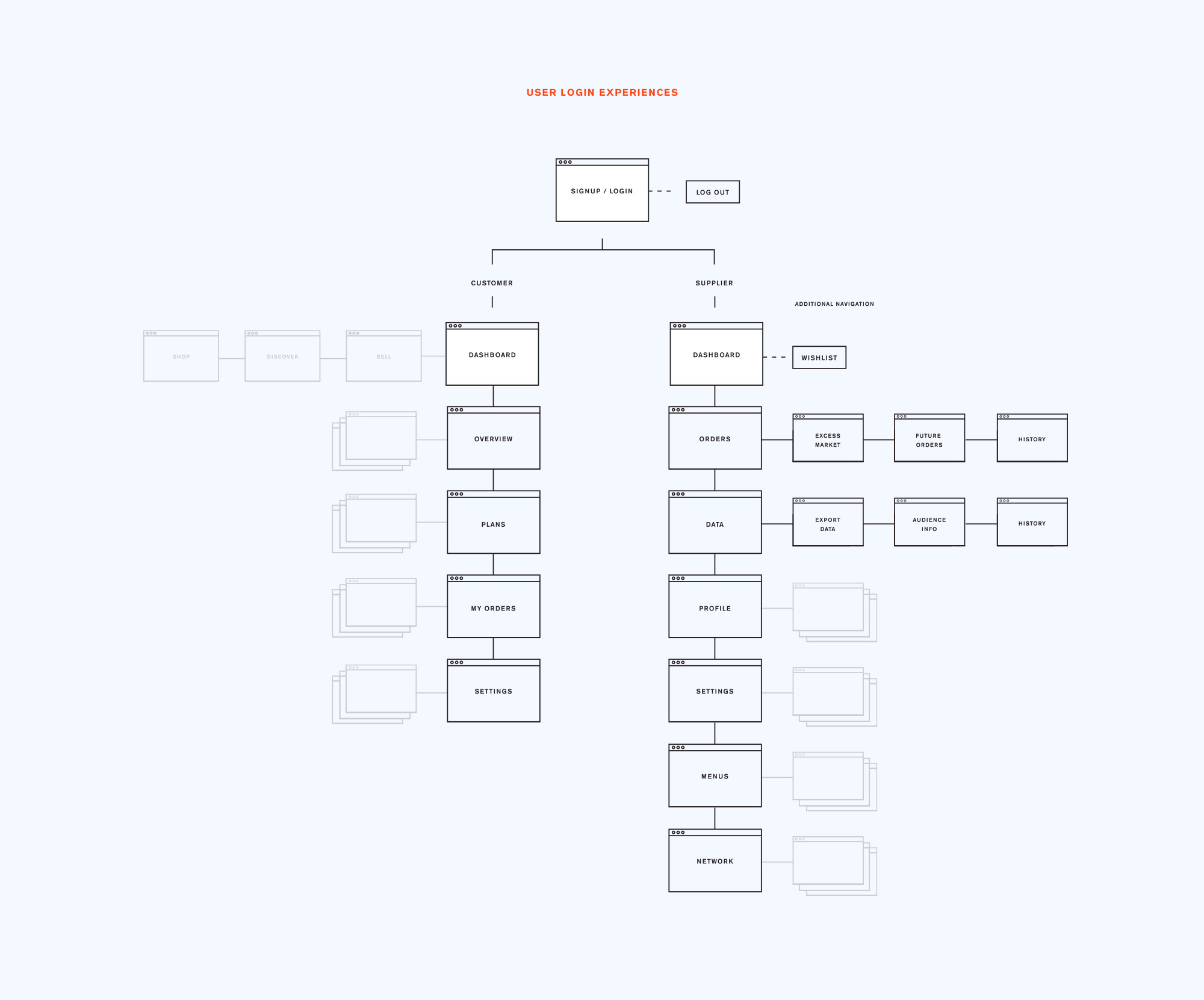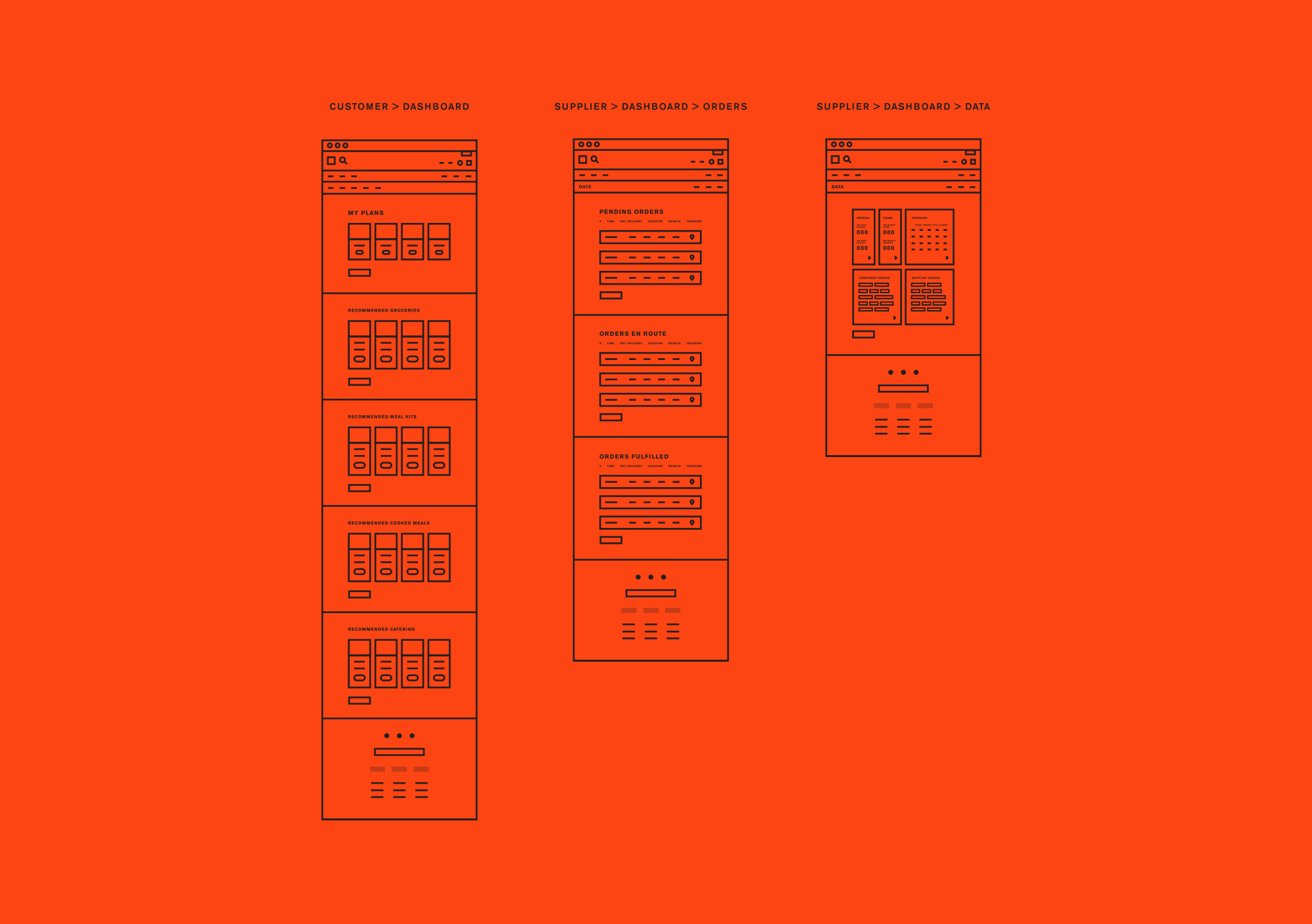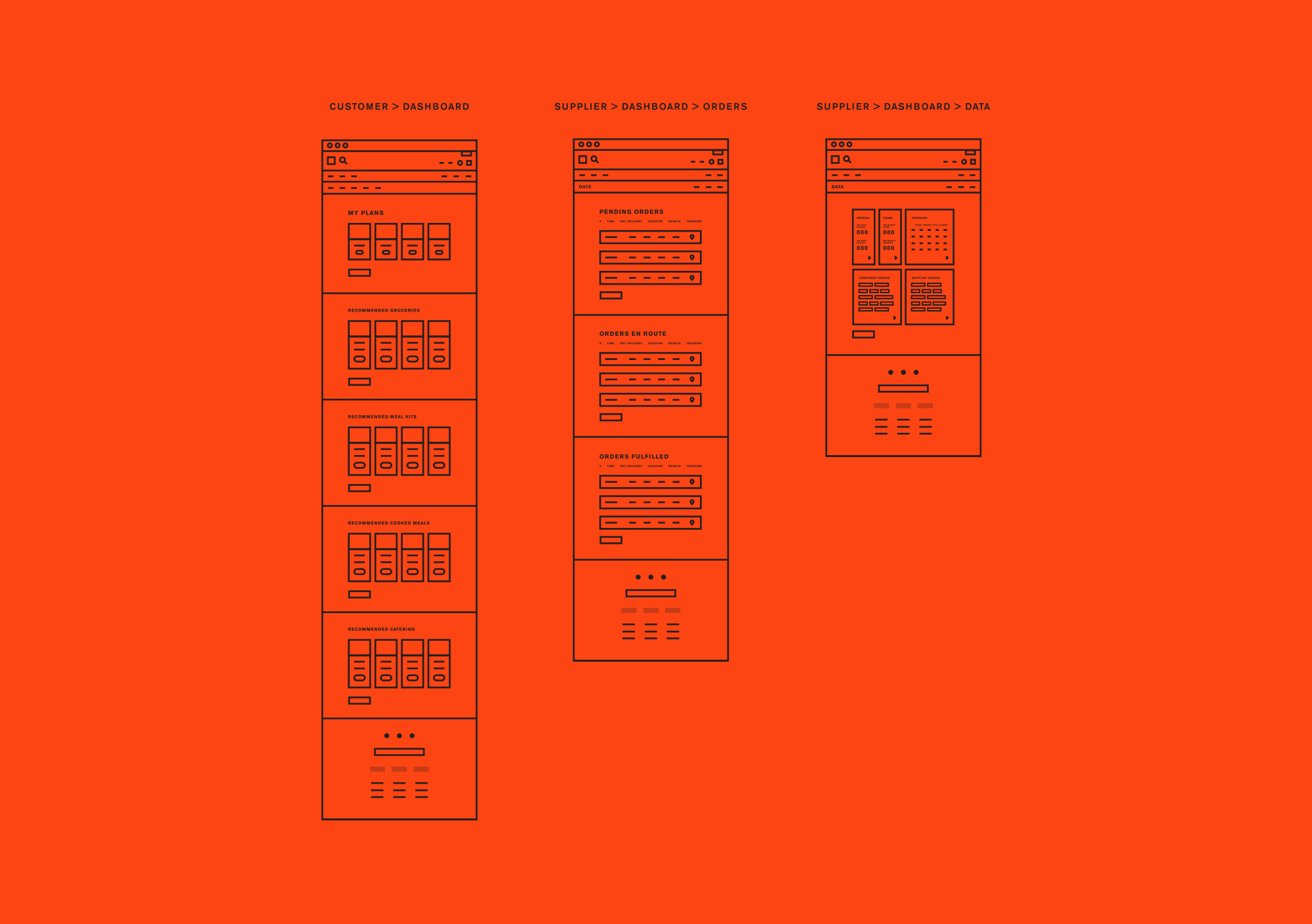 NOTABLE CONSUMER-BASED ITERATIONS
1)The Ability to browse across a full spectrum of food options and one stop shop access 2) Lifestyle integration of offerings to ease selection and choice based on mood, routine and sensory selection options (degree of ripeness, expiration dates) and 3) Meal planners and inspiration tools, also allowing us to begin tracking data/analytics.
NOTABLE SUPPLIER-BASED ITERATIONS
1) A dashboard to depict order flow track history and tease basic consumer analytics 2) A prompted wishlist to gather data to add/improve future services 3) Brokerage consulting services to connect suppliers to ease supply chains and create new business opportunities and 4) an 'excess market' to help offload excess supply before it becomes waste, allowing for buy, sell and donate.
DEFINING A ROBUST BUSINESS MODEL
As we compiled our findings, iterations, and modified the business model prototype along with corresponding user experience, we accounted for our recommendations through the most viable and expeditious go to market strategy. While creating an ecosystem that brings together any and everyone still remains the final desired destination, we recognized the need to start small and build quickly, learning and pivoting along the way. Our reccomendation is that FoodEase launch with the fulfillment model, establish a loyal user base, infrastructure and data capabilities, prior to growing its services to stretch towards the ecosystem model. Gauging how our business model intends to capture value, we envisioned possible revenue channels, marketing possibilities, preempted challenges as well as a high level expansion plan.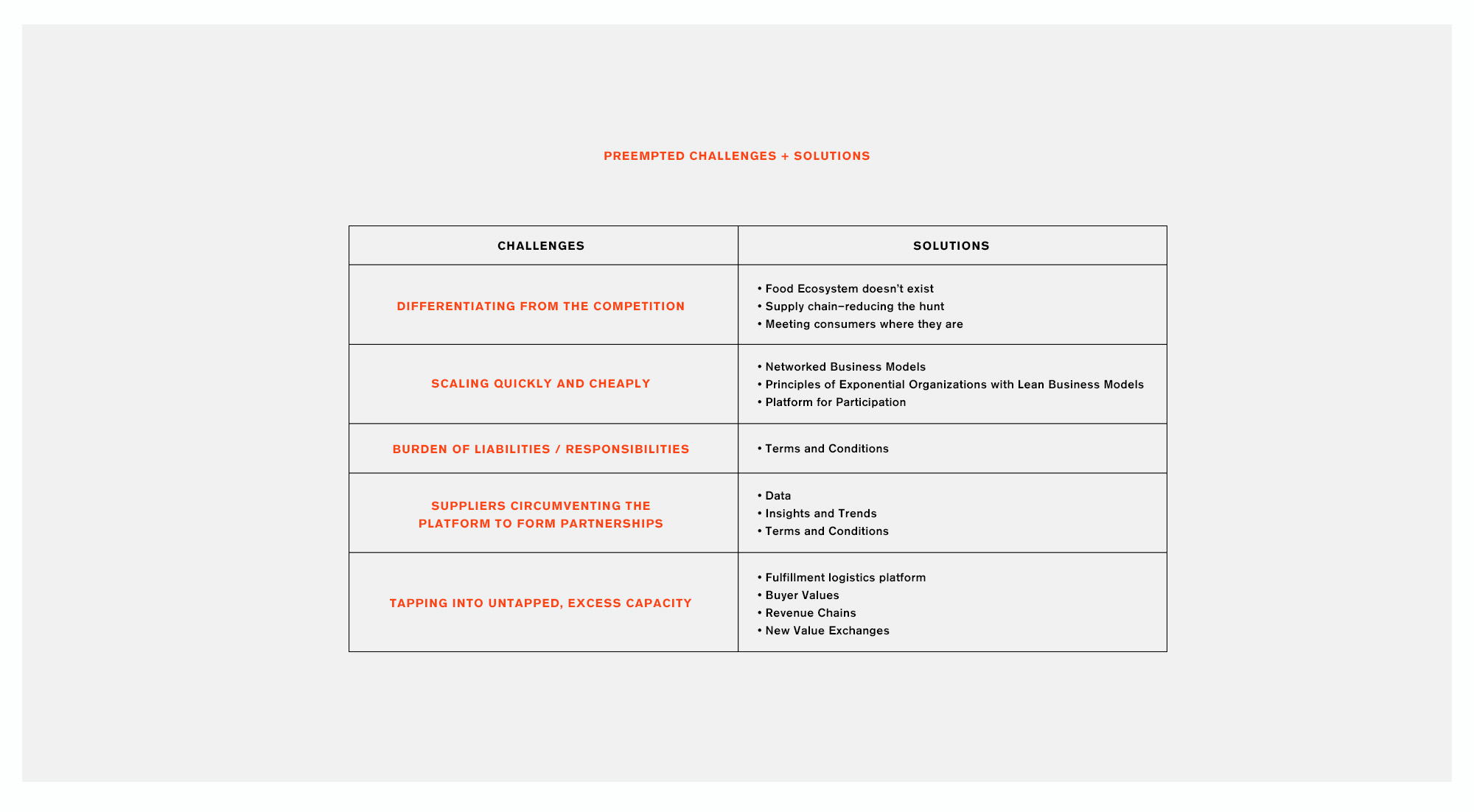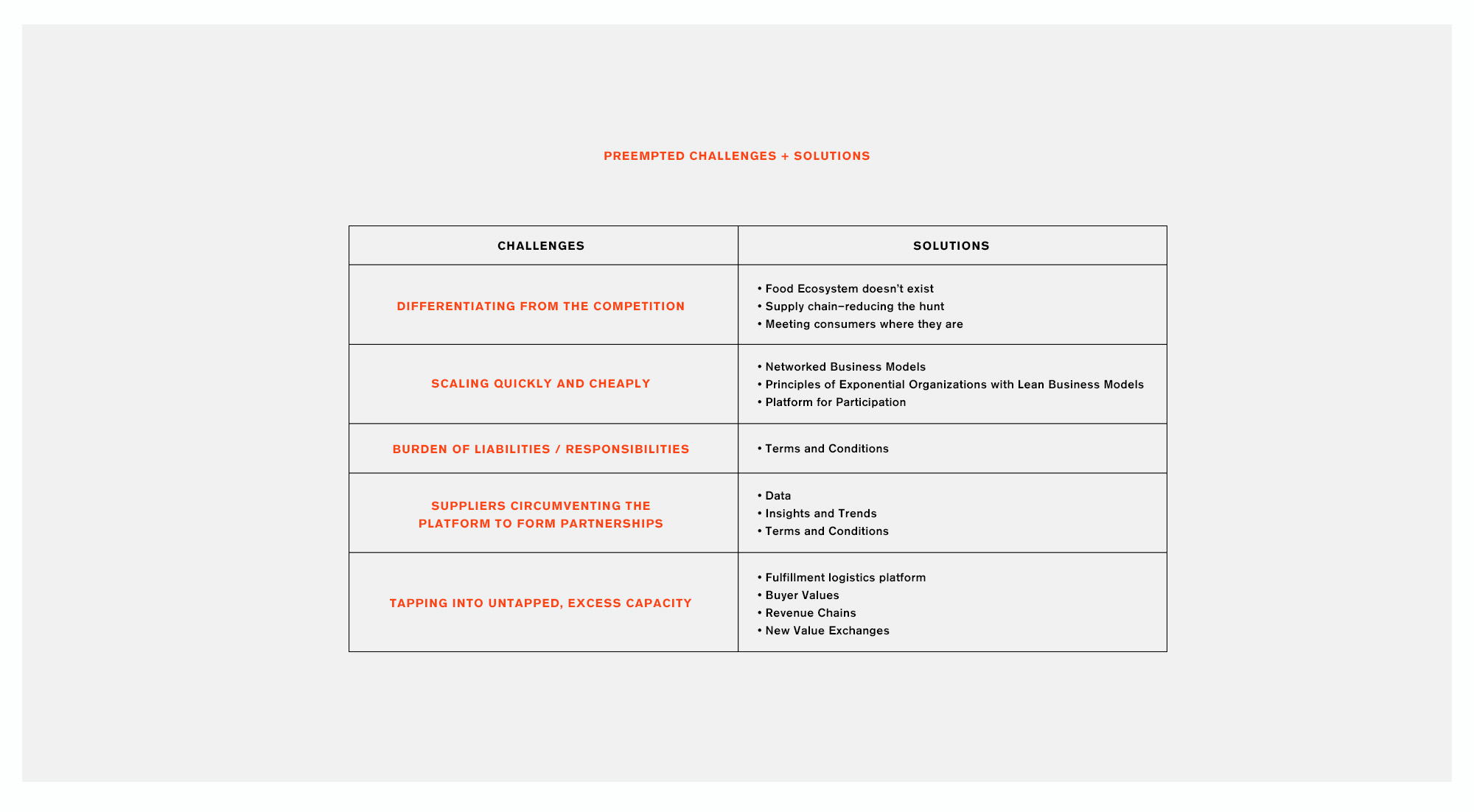 FINAL THOUGHTS
In arriving at our final solution, we defined new possibilities to create, deliver and capture value. Next steps would include testing and thus streamlining to identify early adopters and create a minimum viable product that is targeted at this group. Starting small allows a thoughtful space to test, validate and pivot before embracing principles of exponential organizations. Our work culminated in an interactive prototype and white paper documenting process in its entirety, validating the FoodEase opportunity and business model. The boundless journey of FoodEase displays conviction in the love and importance of food as a universal dialogue, with the power to transcend boundaries of gender, race, ethnicity, age, religion, socioeconomic status and nationality. 
CREDITS
My Role, Co-Lead
Lisha Davis, Co-Lead
Akilah Brewer
Anja Botnen 
Carla Marsh
Elizabeth Stefanski 
Ishita Chaudhuri
Leatrice Lu
Miguel Bastos
Natalia Velasco
Natasha Campbell
Priyanka Sachdev
Sarmad Usman 
Roxanna Zarnegar, Instructor